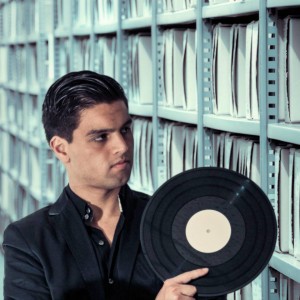 Vincent Visser aka Dusty Gloves
My musical taste is describable as Deep House inspired by 90's Chicago House, New York House and UK Garage. A voyage into the deep, with influences from Soul and Disco. And by dusting off our beloved analogue gear of the past. The main sound will be driven by 909 percussion, silky pad chords, short smudgy samples and rolling basslines.
Dusty Gloves
Curiosity for the past always has been one of my leading passions. It was inevitable that it would influence my other major passion: music. As an art history student I almost felt obligated to study the history of music. Living in the Netherlands, dance music have been all around me. It got me hooked at a very young age and sharing this interest became an obsession. From the moment I touched my first set of turntables at the age of fifteen, they would never disappear. Music is a living thing continuously changing, not necessarily in a positive way. Although dance music is a rather young genre, there a constants to designate, but also elements that rhyme with the past. Those artifacts became the trigger for my quest in musical history. My favourite style of dance music, Deep House, was the entry position and I noticed it seemed fairly untouched by time. By digging for the roots, finding the elements that define House music, my love grew even larger. Those early years from the Warehouse parties in Chicago, till the golden days in New York with fractions across the ocean in the United Kingdom, stole my heart. And played the key role in my maturation as DJ and producer. With legends as Frankie Knuckles, Rick Wade, Terrence Parker and Kerri Chandler as idols. But by only looking to the past and ignoring all the recent developments I would kill House music as a living being or at least exclude myself from progression. A popular quote of Confucius states that: 'Study the past if you would divine the future.' We should understand where our roots lie, learn from the past and use the best elements.